As a development partner with ISPO 2019, Dian Xiaoer Outdoor Power Station leads the new trend of outdoor activities.
2019-01-18
In recent years, with the upgrading of consumption and the continuous improvement of public sports and fitness awareness, more and more people take pleasure in outdoor sporting. Meanwhile, people's consuming attitudes of sport and leisure are changing quickly and would like many innovative outdoor sport products.
From January 16th to 19th , the 15th Asia Sporting Goods and Fashion Fair (ISPO) was held at the Chinese International Exhibition Center in Beijing. In the past decade, ISPO has developed into a professional sporting goods trading platform, and its influence radiates to the entire Asia Pacific region. This exhibition is undoubtedly a great event for outdoor sports lovers and outdoor sports brands. As a professional outdoor power station brand, Dian Xiaoer was also invited to participate in the 2019 ISPO exhibition, showing Dian Xiaoer Explorer 500, Dian Xiaoer Explorer 300, Dian Xiaoer Explorer 200 and other series of products.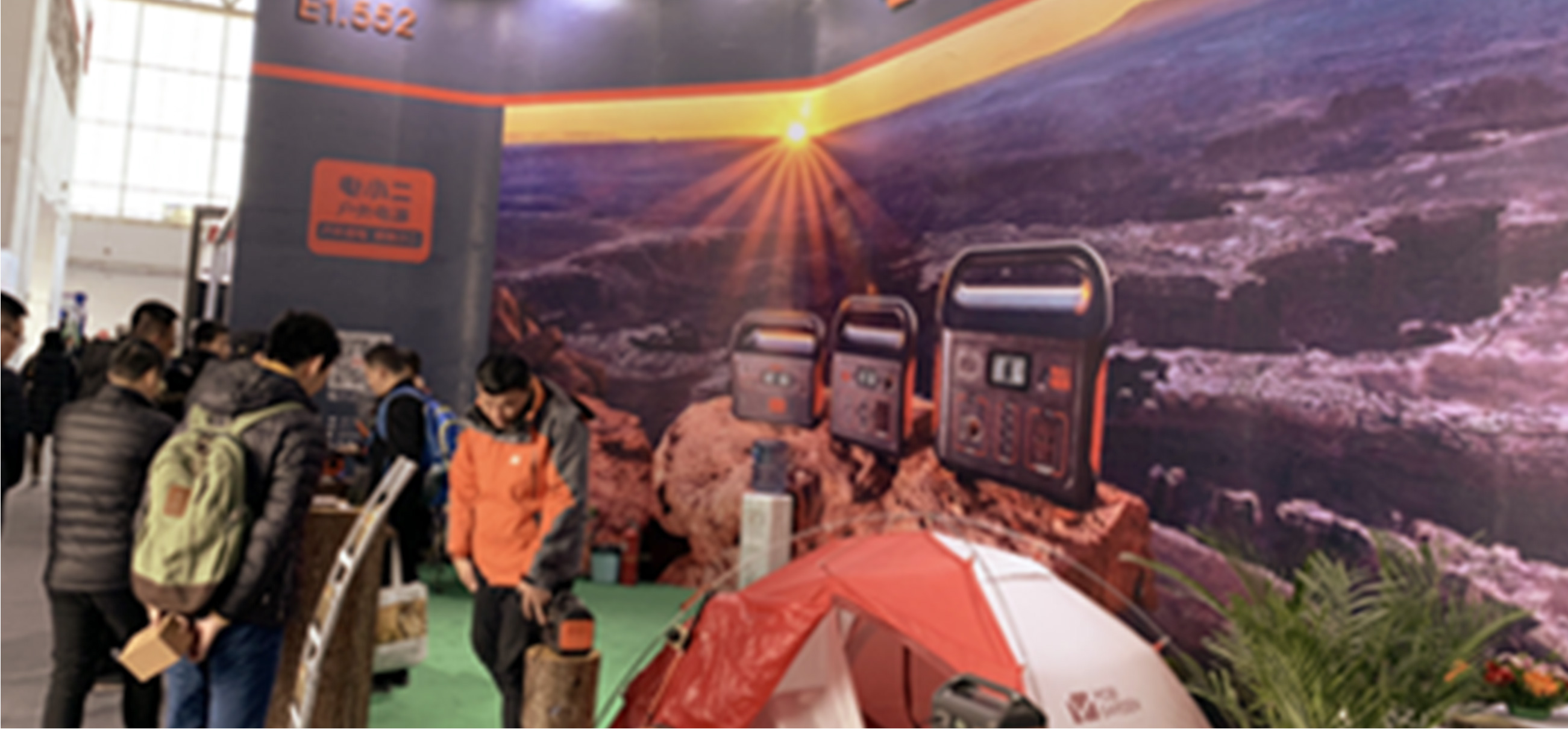 With outdoors demand surging, Dian Xiaoer fills this market gap
Outdoor life is a more free and casual way of exercise. Mountaineering, fishing, camping, hiking and other activities are popular, but there are also a lot of inconveniences in the outdoors, such as charging equipment. Whether it's a small device like a cell phone, a video camera, a laptop, or large power consumption equipment like drones, outdoor lighting, vehicle-mounted refrigerators, it has only a short time of endurance. charging bank can not meet the demand for power supply, the existence of high-power outdoor power supply is very necessary.
At ISPO 2019, the company showcased a range of outdoor power supply products, which can be used in different scenarios and devices according to different power levels. Dian Xiaoer Explorer 500 and 300 are two large capacity power station, equivalent to a small portable charging station, and are high power pure sine wave AC output, voltage stability and safety. It is mainly suitable for driving trip, camping, outdoor small music party, family emergency backup power etc. The two leader of Dian Xiaoer said that Explorer 300 just won the 2018 China "best outdoor equipment" award.
The capacity of Dian Xiaoer Explorer 200 is 58000mAh, with built-in 18650 lithium ion cell, so that it mainly used for UAV, camera and other equipment. For Explorer 80, the capacity is 22,000 mAh, the body is light and in line with aviation safety regulations, which can be carried for mobile phone, laptop, tablet, game.
According to the survey, the stable number of outdoor sports enthusiasts in China is about 130 million, accounting for 9.5% of the total population. The proportion of the consumption of these people on outdoor sports products is increasing year by year, so do the scale of China's core outdoor market according to the data of China Outdoor Alliance. And it will reach 32.1 billion by 2020. In the face of such a huge market demand, the Dian Xiaoer Explorer Series just fill a large gap in the market.
Digging customer demand deeply, Dian Xiaoer change the direction from power bank to lithium ion outdoor power supply
Before, it was known to the public that Dian Xiaoer as a company with more than 10 years of experience in power bank, but later turned to lithium ion outdoor portable power supply products. On the site of this ISPO exhibition, the person who is in charge of Dian Xiaoer mentioned the reasons for the company's transformation and said that from 2013 to 2015, the market capacity of the power bank entered an explosive period. Due to the low technical threshold, a large number of manufacturers flooded in and with nearly 5,000 manufacturers It was formed a vicious competition environment in the industry.At that time, Dian Xiaoer began to think: in addition to the charger, what new needs do users would want ? Finally they set their sights on an outdoor power station.
In fact, in Europe and the United States, there is a large market of generator. The first main application scenario are outdoor activities, people often drive RV with a variety of mobile digital devices to outdoors travel for a week or even a month.The second scenario is used for family emergency. In the face of power outage due to natural disasters and other reasons, families need generators for power station, and in some underdeveloped countries, people still lack power. According to statistics, there are still more than 1.4 billion people in the world without normal electricity, accounting for 18.7%.The third application scenario is outdoor work, for some special workers who need regular outdoor work and detection. The market capacity of the generator industry is about RMB 150 billion grobally. However, there are insurmountable disadvantages in the generator industry, such as large noise, large amount of carbon monoxide and other toxic gases in the tail gas and other problems which need regular maintenance .
The Dian Xiaoer has a 13-year development team with experience in the research of lithium battery management system, and has a total understanding of the changes in the lithium battery market over the years.In 2014, the price of lithium battery dropped from nearly 3 yuan /Wh to about 1 yuan /Wh. With the vigorous development of the new energy industry and the increasingly mature lithium battery technology, the cost will continue to drop.The personage inside course of study is to understand, the cost of lithium-ion batteries in the portable energy storage products accounted for nearly 60%, according to the current trend of lithium battery costs down, outdoor lithium ion portable power stations is expected to be close to traditional generators through continuous optimization and improving product competitiveness. So that it can improve the user experience without changing original user habit and cost increasing.
For the three application scenarios above mentioned, Dian Xiaoer are mainly concentrated in outdoor market segment.Considering domestic outdoor industry has just started, and the market demand will be explored in the next few years, Dian Xiaoer went into the field of outdoor market segment as first companies to open the market of portabe outdoor power station. and entring the market from the outdoor entertainment with low barriers, because it requires larger capacity and high power which lead to higher cost, it is difficult to guarantee consumers will pay for that. The family emergency and outdoor work as assistant marketing application scenario for the market.
Nowadays, with outdoor sports is becoming more and more popular, consumers have a higher and higher professional demand for outdoor products. Compared with the past, they pay more attention to product quality and experience. Some products that are not strong in professionalism but are heavily invested in promotion, marketing, packaging and other aspects are gradually eliminated.As an indispensable outdoor equipment companion for outdoor activities, portable outdoor power station is also facing the same situation. Only enough professional and high-quality products can be established in the market.
After more than 10 years of accumulation, the Dian Xiaoer has become one of the professional outdoor power brand gathering research, development and manufacturing , to provide the public with intelligent, safe and easy to use portable outdoor power stationn and promote the popularity and application of green energy.At the same time, as the industry leader , the company is also constantly improving the standards of portable outdoors power stations, to maintain the healthy development of this industry. 2019 is a new year, and indicate that this ISPO exhibition will also be the starting point of a new journey for this industry.