Lithium-ion "Davos": The New Chance for Dian Xiaoer in the Era of Battery Power Excess
2018-11-22
With the constantly deepening of Economic Reform and open up, Chinese Auto Industry is getting better and better, and the new energy battery industry is accelerating. The annual global battery industry event—China (Qingdao) International Summit Forum on Lithium Battery and New Energy Industry (ABEC | Lithium "Davos") is also Ushered in the 6th edition. On November 21-23, ABEC 2018 Forum will be held at the Star Island Convention Center in Qingdao West Coast New District, China.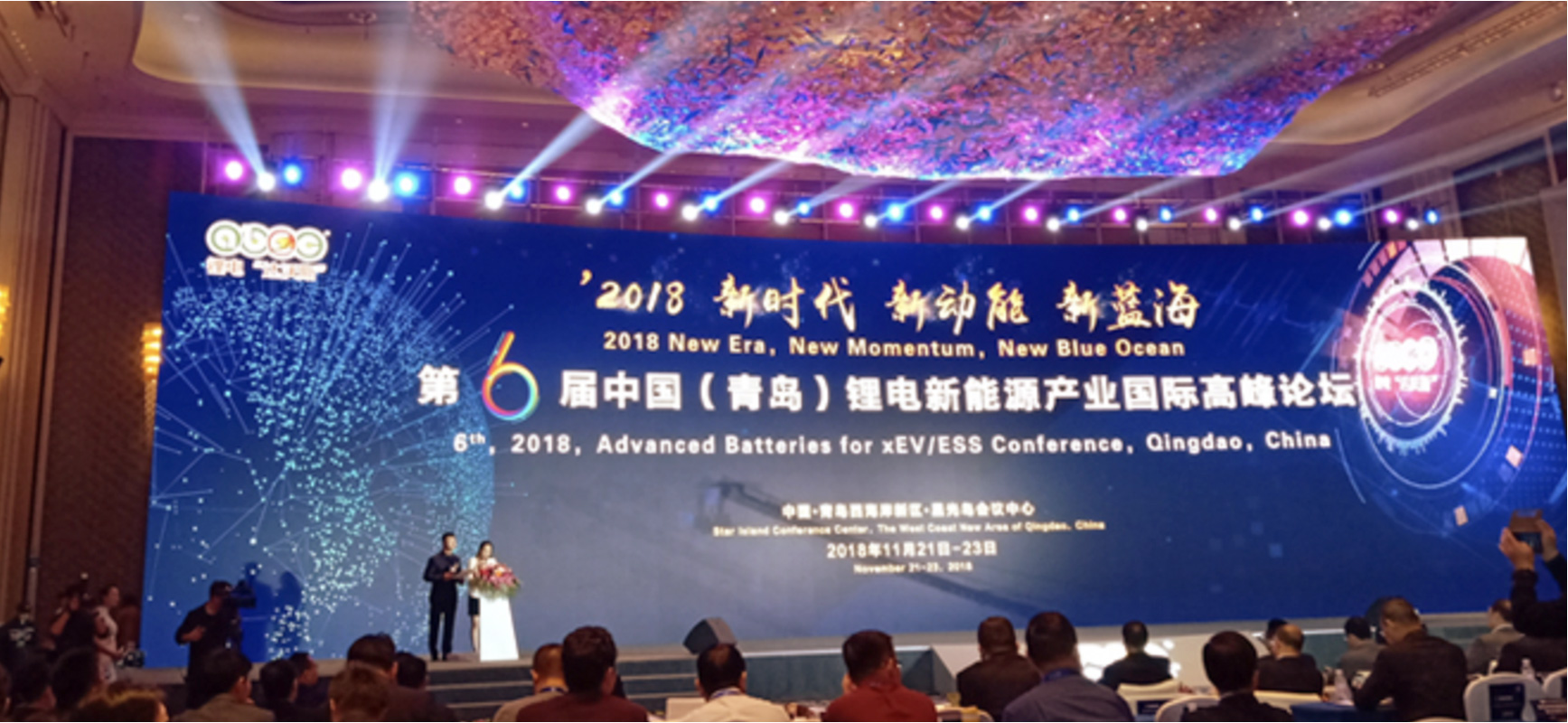 The theme of this forum is "New Era, New Battery Energy, New Blue Sea",
Discuss the latest technology research and development direction and market of the lithium battery industry chain,
Domestic and foreign companies conduct comprehensive exchanges and deep integration of resources.
New energy opens a new era of energy revolution,
Intelligent manufacturing creates new battery energy for manufacturing in China,
The new energy of automobiles has built a new Blue Sea in the battery industry.
Zhang Weihua, Sales Director of Dian Xiaoer, as the sponsor of this forum, Dian Xiaoer sales team also participated in the forum activities. Mr. Zhang and his members took Dian Xiaoer outdoor power stations to participate in the new product display of this forum and made a speech. With the theme of development prospects, product introductions, corporate development directions and future plans to communicate with industry professionals on site.
Dian Xiaoer complies with the development and progress direction of the times
With the improvement of people's living standards, more and more people go out of their homes and stay outdoors for longer and longer. The requirements for the quality of outdoor life are getting higher and higher. In 2017, the number of tourists in the country reached 5 billion, and the number of self-driving cars reached 3.1 billion, accounting for up to 61%. As people choose more lifestyles, the demand for new energy is becoming more and more significant. In order to solve people's demand of outdoor power, Dian Xiaoer has developed and produced a lithium battery outdoor power station that can be charged by solar energy to meet people's ungent outdoor needs for large-capacity and high-power electricity. In 2017, the first leading, portable and environmentally friendly outdoor power station of Dian Xiaoer was successfully launched!
Dian Xiaoer Eco-friendly New Energy, Creating New Uses of Excessive Power Battery
Mr. Zhang, the sales director of Dian Xiaoer, mentioned in his speech at the forum: The overcapacity of power batteries is an indisputable fact, especially the overcapacity in the Chinese market is particularly serious, and the three major types of lithium-ion batteries are facing the challenge of overcapacity. The outdoor power station of Dian Xiaoer uses lithium-ion power cells of the same category as Tesla, which has lower heat generation and longer cycle life. Compared with the lead-acid batteries and small oil-burning generators on the market, it is also more portable, cleaner and eco-friendly. In order to enhance the safety and stability of products, the R&D team behind Dian Xiaoer spent 13 years building a battery management system, putting consumer safety first.
The new outdoor power station 300 of Dian Xiaoer defines high-power portable products series
The Portable Outdoor Power Station 200 which is turned on by a portable outdoor photography power supply is loved by a wide range of outdoor travel photography enthusiasts. This new Dian Xiaoer Portable Outdoor Power Station will be listed on Dianer's Tmall flagship store on December 10th. As an upgraded version, the output power can reach 240W, which can solve the devices of 100-240W, such as gaming laptops and charge pumps. With 300Wh large capacity, and built-in car cigarette lighter that can be directly adapted to vehicle equipment and 12V cigarette lighter equipment, to achieve the goal of "Powering anytime and everywhere". In the future, Dian Xiaoer will provide the customers more comprehensive serialization products and more choices in the direction of development and production.
In the process of continuous research and development and upgrading, Dian Xiaoer is willing to share corporate standards to advocate outdoor power station to be safer and more professional, and jointly maintain and make the industry develop more benign. While realizing corporate value, they are committed to becoming the leading brand of outdoor power stations in China so that the Chinese people will no longer to worry about power outage in their outdoor activities.